Telework and Ethics: Eight Best Practices
Publication date: September 24, 2020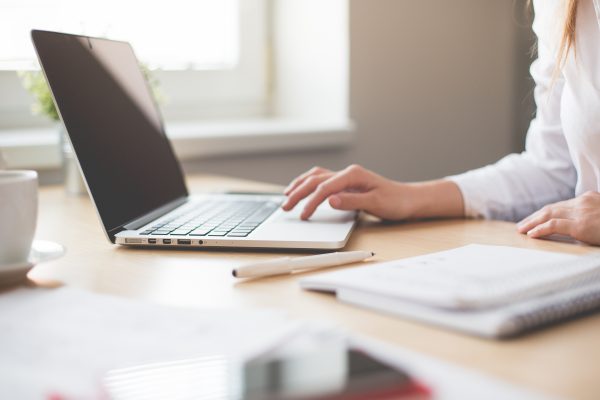 Telework has been spreading like wildfire since the global COVID-19 pandemic began. And there is every reason to believe that once this crisis is over, the concept of working from home will be subjected to serious examination.  
Though the future of remote work remains to be seen, one thing is clear: regardless of whether you work from home or from the office, your ethical obligations remain the same. With this in mind, here are eight best practices you should implement to ensure that telework and ethics always go hand in hand.
1. Use technological tools wisely.
For this reason, certain firms do not allow their employees to use a personal computer or someone else's computer when teleworking. If your employer provides you with a computer to work from home, the device should be used exclusively for professional purposes.  
Moreover, if you have been allowed to use your personal computer, make sure it is protected by a reliable security system (password, firewall, antivirus software, etc.), and always ensure you have installed the most recent updates.
2. Preserve client records safely.
Under current regulations, firms have an obligation to preserve client records safely; in particular, this means:
Under current regulations, firms have an obligation to preserve client records safely; in particular, this means;
Protecting electronic records against loss, destruction or falsification by backing up your data, controlling electronic access, and opting for computer systems that prevent data from being altered or deleted.
You should therefore avoid both keeping physical files in your home, and saving documents on your personal computer. Preferably, use a secure connection to remotely access client records you keep at the office.  
And whether you are teleworking or at the office, it is your obligation to file all relevant documents in the client record and ensure that this record contains all the information stipulated in the record-keeping procedure.
For further information, read the Procedure on Record Keeping and Notes in Client Records for Representatives or the procedure for claims adjusters.
Insurers' Portal: A Reminder for Brokers and Independent Claims Adjusters
Do not confuse information on the insurer's portal with the firm's client records. Information on the portal is the insurer's client record, not the firm's. You must therefore put your notes in the firm's client record, as stipulated in the procedures.
3. Protect the confidentiality of your clients' personal information.
Even though you consider your home to be a personal, safe environment, you must ensure that you protect your client's personal information there, just as carefully as you would elsewhere.  
Even though you consider your home to be a personal, safe environment, you must ensure that you protect your client's personal information there, just as carefully as you would elsewhere.  
Furthermore, you must take all steps necessary to ensure the protection and confidentiality of the personal information you hold, no matter where you keep it or the medium you use (physical or electronic).
This procedure is designed to ensure the protection of personal information.
This procedure is designed to ensure the protection of personal information.
Confidential Information
You also have the more general obligation of protecting your clients' confidential information. For example, leaving a business's confidential financial statements out for all to see is a breach of ethics.
4. Safe Electronic Communications
If you need to e-mail documents containing personal information to a client, you must obtain the client's prior consent and ensure that the e-mail address you use is valid, accurate and private.
If you send documents about a client to a third party, make sure you obtain the client's consent to do so, in addition to confirming the accuracy of the recipient's address.  
To learn more about this topic, please read "Communicating and Conducting Business Electronically: What Do I Need to Know?"
5. Use electronic signatures properly.
Electronic signatures and digitization of documents are authorized, as long as you comply with the conditions stipulated under the Act to establish a legal framework for information technology (ACLFIT) dealing with the identity and consent of the various parties, as well as the integrity, availability and confidentiality of the documents.  
Thus, a signature may be affixed to a document using any method, including electronically, provided it meets the following conditions of the ACLFIT: 
a sufficiently reliable association can be established between the e-signature, the person and the document; 
it is impossible to alter the document after it has been signed; 
the client must have access to the full document before signing it; 
the method must require clear action by the signer to confirm his or her signature; 
the date and time must be indicated on the document.
To learn more:
6. Carry out your advisory role and always follow up on your clients' instructions.
COVID-19 or no COVID-19, you must conscientiously advise your clients, follow up on their instructions as quickly as possible, and be transparent in carrying out the mandates you receive—in other words, disclose all relevant information, without hiding anything. If it is impossible for you to do so, you must quickly notify your superior and the clients involved.
Remember: once the insured is in a position to make an informed decision, he or she has the right to ask for changes to the contract or even to change insurers at any time, and for any reason whatsoever. Claimants also have the right to make their own decisions during the claims management process, as well as to ask questions, get answers and evaluate their options.  
Even if client's requests generate more work for you, and your workload is already high, you must follow up on their instructions, whether you are working from home or from the office.  
Read this article to learn more about best practices to follow when an insured asks for changes to his or her contract.
7. Be available.
Agents, brokers, and claims adjusters must be available to their insureds. When it comes to availability, always be transparent with your clients. This may mean managing expectations and giving insureds a reasonable timeframe so they know when to expect a return call.
Unable to meet your professional obligations?
If you realize that you don't have enough time, or that you cannot meet your professional obligations, you must notify your superior, who will implement measures to correct the situation. You may also contact the ChAD's Customer Relations Department for support: simply fill in the online form or call 514 842-2591 or 1 800 361-7288 (toll free), extension 609.
If you are not available, best practices dictate that you make sure your e-mail generates an automatic "out of office" message and that your voice mail includes a message briefly explaining the situation and providing the contact information of the person they should reach out to during your absence.
And finally, make sure you have a system or a procedure that enables you to track and manage renewals so that information is sent out within the prescribed timeframes or is available electronically to insureds, as the case may be.
To explore this further:
8. Work with the Syndic's Office during an investigation.
If the Syndic's Office of the ChAD contacts you during an investigation, remember that it is your obligation to answer his requests within a prescribed deadline. This obligation is enshrined in the code of ethics and supported by extensive case law.
This being said, the ChAD realizes that certain exceptional situations, such as a pandemic or an interruption of business, may have repercussions on your professional practice or your access to files. If necessary, and as soon as possible, contact the investigator who made the request to discuss your particular situation.