Who to call: a broker or an agent?
Whether you're insuring your car, your home, or your business, you need to contact an insurance company (an insurer). But will you do so via an agency or a damage insurance brokerage firm? Is there a difference between the two?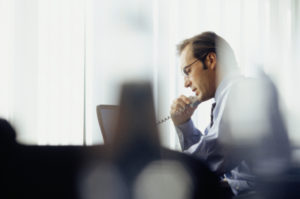 Your first option involves speaking to a damage insurance agent, who could be either an employee of an insurer or a damage insurance agency, while the second involves speaking with a damage insurance broker.
Damage insurance agents and brokers are both certified professionals whose professional practice is overseen by the Chambre de l'assurance de dommages. They must comply with certain obligations in order to maintain their right to practice. In addition, they must keep their skills current through professional development, as well as comply with their code of ethics.
Is there a difference in cost between the services of an agent and a broker?
To distribute its products, an insurance company may:
deal directly with the consumer through damage insurance agents. After drawing up a portrait of your situation and identifying your needs, an agent will advise you and suggest the best product for you from the insurer's suite of products. The amount of the premium will therefore include employee salaries and operating costs.
go through brokerage firms that offer a variety of damage insurance products from the insurers in its business network. Like an agent, the damage insurance broker will also draw up a portrait of your situation and identify your needs, and then ask for quotes from the insurers in his network in order to offer you the product that best meets your needs. The insurance premium will include the commission paid to the broker; brokers may also charge fees (see box).
Are you considering buying insurance online? Visit the website of the Autorité des marchés financiers to make an informed decision.
Above and beyond the cost of services provided by a damage insurance professional, there are several other things that can impact the amount of the premium. The coverages chosen, the type of car, home, or business to be insured, past claims, compensation received, claims frequency, etc. are all factors that could influence the premium or even whether or not the insurer agrees to cover you.
Can a damage insurance professional charge fees?
A damage insurance professional who intends to charge fees that are not included in the amount of the insurance premium must notify the client.
The word "fees" can include the cost of an inspection, a policy issue or file set-up fee, or professional fees. If these additional fees do not exceed $50 for a personal-lines insurance file (for instance, home or car insurance), or $250 for a commercial-lines insurance file, they may be disclosed after the service has been provided via a mention on the invoice.
Otherwise, the professional must notify you beforehand and in writing. As the client, you may accept or refuse these fees at the time of the transaction; you cannot be faced with a fait accompli. 
The added value of a professional 
It is therefore very important to shop around for your insurance contract, not only to compare prices, but in particular to compare the products being offered to you. They say that you need to read between the lines of an insurance contract to ensure that your belongings are properly covered. Yes, it's important to take the time to read the contract, but it is particularly important to ask questions of your damage insurance professional, be they an agent or a broker. 
Be aware that they have an ethical obligation to give you all the advice your situation requires. This advice is not limited to the insurance contract: it also extends to everything that arises directly or indirectly from it, as well as the description of the policy's special exclusions and limits, taking into account the needs that you expressed.
Do not hesitate to ask your professional questions and give him all the information that you deem relevant so that he can propose a product that will protect all of your assets.