New regulatory measures respecting oil-fired heating appliances
Publication date: December 13, 2022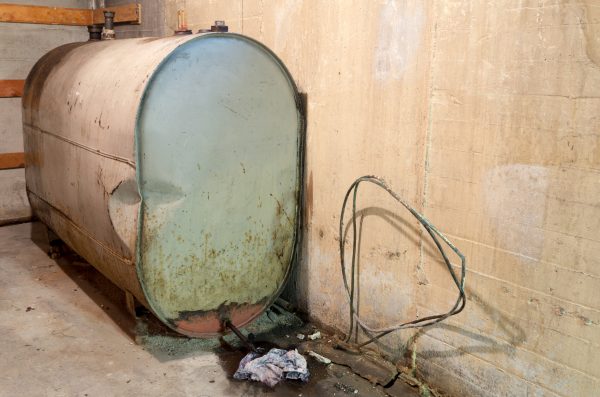 Most homes in Quebec heat with electricity. Although heating oil makes up 4.1% of residential energy consumption, it represents 70% of total heating oil consumption in Quebec. 1.
While there has been a 9% decline in residential heating oil consumption over the past 10 years2, lthe government has enacted new regulatory measures to gradually phase out both the installation and repair of oil-fired heating appliances in order to accelerate greenhouse gas reductions in the sector. These provisions will be implemented in two phases: the first, which began on December 31, 2021, applies to new residences while the second, beginning on December 31, 2023, will apply to existing buildings.
Damage insurance agents and brokers will have to familiarize themselves with these provisions in order to properly inform and advise clients purchasing or renewing a contract, and insureds requesting information or changes during the term of their contract.
Claims adjusters will also have to understand the regulation to inform insureds who have this type of appliance and explain how the regulation will impact them.
Who is affected by this regulation?
The new restrictions, which came into force on December 31, 2021, apply exclusively to residential buildings no more than three storeys high with a total area of no more than 600 square metres (6,500 square feet), regardless of the type of residence: cottages, bungalows, duplexes, triplexes, etc.
If your client owns an oil-fired boiler, furnace or water heater that heats their residential building or its water supply, you will have to inform them of this new regulation, since it may have an impact on their home insurance.
Prohibition on installing or replacing an oil-fired heating appliance
Since December 31, 2021, no new residential construction3 may install a fully or partially (dual energy heating-oil/electricity) oil-fired boiler, furnace or water heater. In fact, Hydro-Québec has reported that no households installed such heating appliances in their new residences between 2014 and 2018 and that 40% of homeowners even converted their appliance to a new energy source4. Clearly, the population is abandoning heating oil as a main source of energy; as a result, "there are no new consumers for residential heating oil."5.
Beginning on December 31, 2023, existing buildings will also be prohibited from replacing an oil-fired appliance with a fossil fuel-fired appliance that uses either natural gas or propane. The objective is to "promote the use of renewable forms of energy,"6 such as electricity.
Prohibition on repairing or replacing a furnace that works on heating oil.
Beginning on December 31, 2023, under certain conditions, repairing or replacing an oil-fired appliance—specifically a boiler or a furnace installed over 20 years ago, or a water heater installed over 10 years ago—will not be permitted. This will apply, for example, to maintenance that involves repairing or replacing a combustion chamber or a heat exchanger. However, repairing or replacing an electronic or electrical component related to the operation and safety controls of an appliance will be allowed.
"Normal," regular preventive maintenance based on the age of the appliance will continue to be allowed. However, the work must be done by a professional such as a member of the Corporation des maîtres mécaniciens en tuyauterie du Québec and the professional must report the installation or repair to the Ministère de l'Environnement et de la Lutte contre les changements climatiques (MELCC).
Brokers' and agents' duty to advise
When writing or renewing a home insurance contract for clients who heat with oil, you must inform them of the new regulation. Be proactive: check whether the insurer has instituted new restrictions or changes to such coverages and make sure to identify and inform clients who may be affected by these changes.
It is your obligation to provide all necessary and useful information as well as advice tailored to the client's specific situation to ensure that the client is able to make informed decisions. For example, if the insurer requires the client to replace an oil-fired heating appliance, a warranty could be issued to the client. The warranty can take different forms, including:
a document that must be read, signed and returned to the insurer;
a rider added to the insurance contract;
a paragraph within the insurance contract itself.
Even if an insurance contract's coverages are not affected, you should nevertheless advise your clients to keep in mind that by December 31, 2023, they will have to replace their oil-fired heating appliance and that only renewable-energy options, such as electricity, will be allowed. Your clients can find more answers to their questions by reading the MELCC's FAQ page [in French only].
The claims adjuster's duty to provide information
If you are assigned a file involving a tank that holds heating oil used to power home heating appliances, you must tell your client about the new rules regarding appliance replacement. Furthermore, if petroleum products caused the damages, you must proceed quickly and cautiously to avoid serious consequences. Read "Réservoir de mazout : déterminer les causes d'un déversement" [Oil tanks: determining the causes of a spill, in French only] to learn about petroleum equipment and the applicable standards; this article will help you with your investigation and determining the causes of the loss.
What is oil heating?  
Petroleum products are petroleum derivatives that are used, amongst other things, as an energy source. The main fuels used for residential heating are gas, propane and heating oil.
In the residential sector, heating oil is mainly used to power appliances such as hot-air generators or boilers that heat indoor spaces, and water heater appliances. There are two types of oil-fired heating appliances used for home heating:
appliances that operate on heating oil alone;

dual-energy appliances, in other words, heating oil and electricity.7.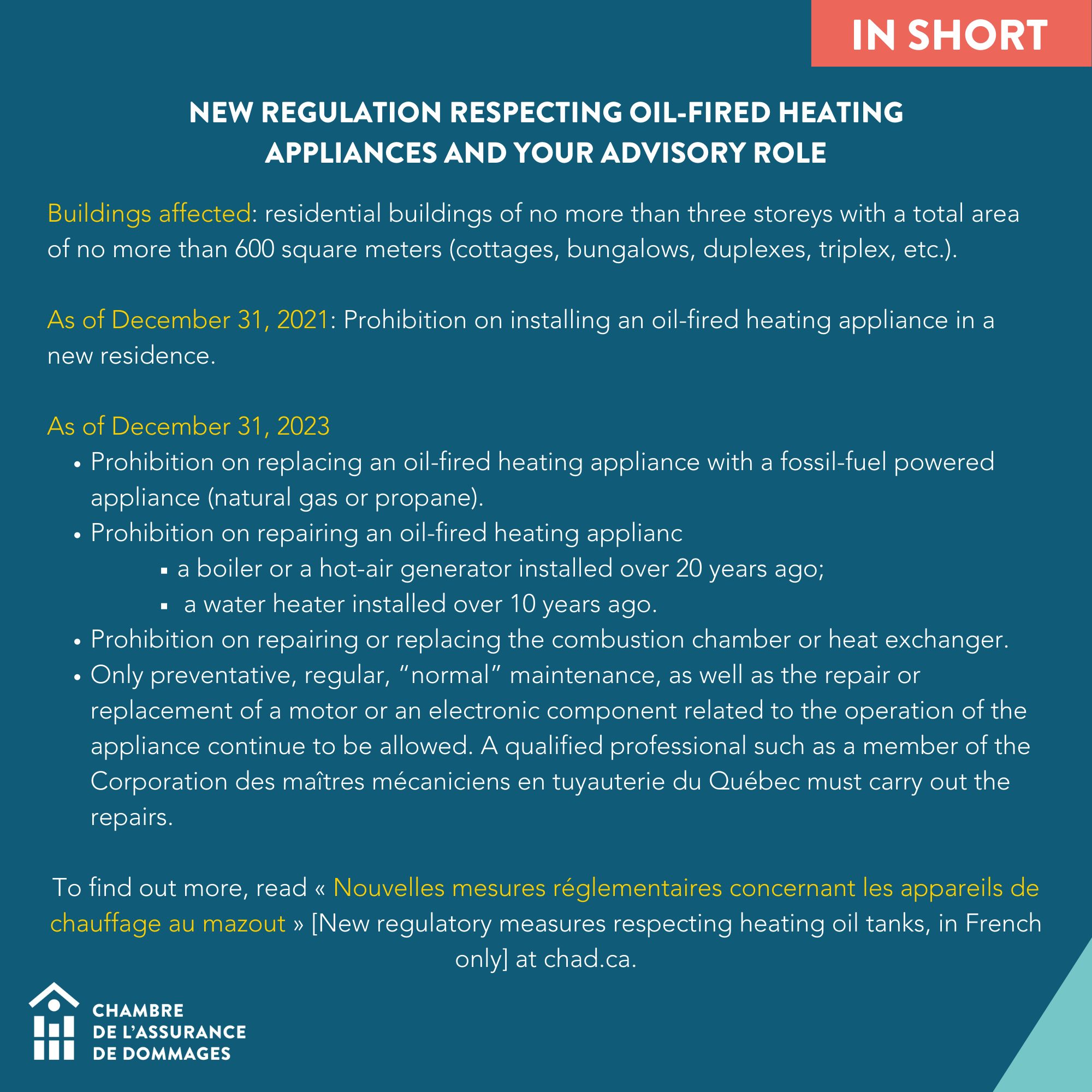 ___________
1.GOUVERNEMENT OF QUÉBEC. « Analyse d'impact réglementaire sur le Règlement sur les appareils de chauffage au mazout », 2021, p. 1. [in French only]
3.« Tout bâtiment résidentiel dont le permis de construction a été délivré par la municipalité depuis le 31 décembre 2021 », en vertu de l'article 2 du Règlement sur les appareils de chauffages au mazout.
4.HYDRO-QUÉBEC. « Utilisation de l'électricité dans le marché résidentiel », édition 2018, p. 70. [in French only]
5.GOUVERNEMENT DU QUÉBEC. « Analyse d'impact réglementaire sur le Règlement sur les appareils de chauffage au mazout », 2021, p. 17. [in French only]