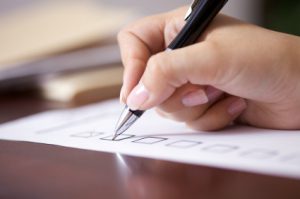 Last year, Line, a young entrepreneur, opened a recycled-fabric fashion design studio in her apartment. After weighing the pros and cons, she decided to purchase insurance coverage for her small business. Recently, Line received a call from her damage insurance professional to let her know that it was time to renew her insurance policy. This call raised a number of questions in her mind: Did she have to take any particular steps? What should she take into consideration? What does her insurance professional need to know?
Time to Take Stock 
Business-lines renewals should be taken very seriously. Renewal time is an opportunity to verify whether the client's current insurance coverage continues to meet the business's needs. It is also a perfect time for the client to take stock of her business and think about the future: A change in sales? New business on the horizon? Replacing or purchasing new equipment? 
As an entrepreneur, you should not hesitate to call your damage insurance agent or broker, who will look at the specifics of your business and help you to ask yourself the right questions. These certified professionals—who are supervised by the Chambre de l'assurance de dommages (ChAD)—must comply with a number of obligations, including the obligation to inform and advise you regarding the products that will best suit your needs. 
What Should Be Taken into Consideration? 
Like Line, you are perhaps unsure of what you need to take into consideration when renewing your insurance. A number of things may have an impact on a business's insurance needs; some are easier to identify than others. 
For instance, during the year, Line bought an overlocker machine for garment finishing, as well as a computer to create her clothing designs. Acquiring machinery or equipment (including computers) can affect the value of the property to be insured. The amount of coverage will perhaps have to be reviewed to account for these changes. 
During the year, Line also worked on market development and she now ships some of her creations to Europe. Since this type of expansion affects her business's risk profile, she must notify her damage insurance professional so that her insurance can be adjusted to properly cover her new export business. 
When renewing a business-lines automobile insurance policy, the insured should mention such things as:  
changes in vehicle use (for instance, use for commercial deliveries), 
hiring new delivery drivers, 
installing an anti-theft system.